The owner of a restaurant in Mendocino, California punished customers wearing a mask internally, according to NBC Bay Area.
"$ 5 shipping fee added to orders placed while wearing a face mask," read the signs placed on the windows and in the register of Fiddleheads Cafe.
Good print adds to that anyone who hears bragging about being vaccinated will be hit with another $ 5 fee.
"Customers like or oppose it," owner Chris Castleman said in an email NBC Bay Area, who said the 'payment' was ultimately considered an 'optional donation' to go to charities that help victims of domestic abuse.
"There are people who refuse to pay for it; I think a $ 5 charity donation is too much for them. Some happily paid for it knowing it would go with good intentions. I don't force anyone to pay, I give them freedom of choice, which is a concept foreign to these parts of the country., "Castleman added.
This isn't the first time Castleman has entered the mask debate – posting signs in April that read: "PUT YOUR MASK (S) IN OUR TRASH BIN AND RECEIVE 50% OFF YOUR ORDER," as man "GET FREE MY COVID -19 VACCINE CARD HERE!" accompanied by a photocopy of what turned out to be a COVID -19 vaccination record.
Agreed to Press Democrat, Castleman temporarily closed the restaurant in June 2020 after receiving a $ 10,000 statement from county health officials for violating various health orders – such as staff not wearing appropriate attire cover the face or not posting the necessary signage regarding social avoidance or proper hygiene.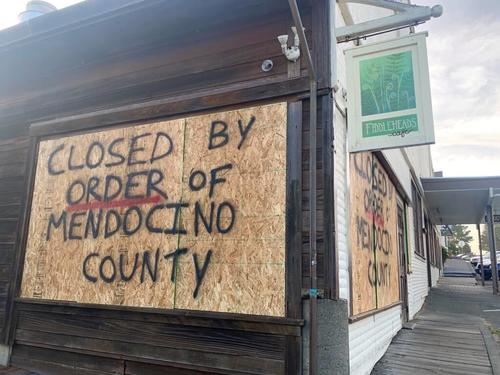 "I don't tell my employees to do anything," Castleman said. "It's between them and the county. In general, my position is that it is all about personal responsibility and personal choice. It's not about my being a cop. "
Castleman started a still -active GoFundMe page in June to help open his doors, and added $ 6,500 of his 5,000 purpose.
Published from ZeroHedge.com with permission